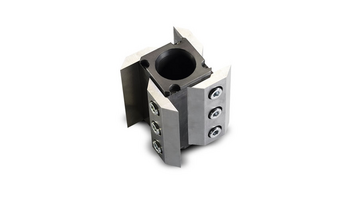 The rotors made of chromium-free tool steel are especially recommended for the sample preparation according to RoHS and for the XRF-analysis. If a chromium-free size reduction is required for sample preparation according to RoHS – for example for verification of hexavalent chromium – or for XRF analysis, FRITSCH cutting tool sets of chromium-free tool steel offer this absolute assurance. Because for FRITSCH Cutting Mills, the fixed knives are always of the same material as the cutting edges of the rotor.
The chromium-free tool steel rotor with straight cutting edges which run parallel to the fixed knives is suitable for easily cut material, such as hay, straw, fibrous or biological materials.
The rotor knives can be turned, since they have two cutting edges. Your advantage: doubling the service life of the rotor knives.
For all other applications the rotor of tool steel can be used, because of its hardness and top resistance against abrasion.
ЭЛЕМЕНТНЫЙ АНАЛИЗ
1. Rotor knives
General specifications
Material
Chromium-free tool steel – 1.1740
ISO/EN/DIN code
C60W3
Chemical composition
Element
Share %
Iron – Fe
98.63 – 98.08
Carbon – C
0.55 – 0.65
Silicon – Si
0.15 – 0.4
Manganese – Mn
0.6 – 0.8
Phosphorus – P
< 0.035
Sulphur – S
< 0.035
Physical and mechanical properties
Density
7.8 g/cm³
Hardness
50 - 55 HRC
2. Rotor body
General specifications
Material
Construction steel – 1.0037
ISO/EN/DIN code
S235- JR formerly St 37
Chemical composition
Element
Share %
Iron – Fe
98.34
Carbon – C
0.17
Silicon – Si
0.3
Manganese – Mn
1.4
Phosphorus – P
0.045
Sulphur – S
0.045
Physical and mechanical properties
Density
7.85 g/cm³
Hardness
~ 65 HRA
Explanations on hardness data