Vario-Lid system with plunger made of plastic PP and reduction sample pusher for moist, liquid and viscous sample materials
№ 11.3180.00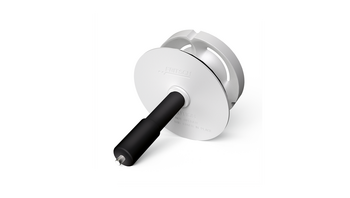 The freely adjustable Vario-Lid system made of plastic PP fulfils two important requirements at the same time: It can be used to reduce the grinding chamber volume down to 0.54 litre and to manually compress and loosen up the sample material at the beginning and at any time during comminution. Thus you always achieve a homogeneous sample in a narrow particle size range even for smaller sample quantities and for difficult to grind materials.
The Vario-Lid system automatically returns rising liquids during the comminution and can be used for most sample materials.
For the Vario-Lid system, is a reduction sample pusher with plunger for dry, solid samples available: order no. 11.3189.16.

The following lids are also available:
Standard lid made of silicone (included with the instrument) is ideal for the comminution of soft, medium-hard samples which do not have to be compressed: order no. 11.3203.15.
Special lid for cryogenic comminution with single-use sieve insert: order no. 11.3220.00.
ЭЛЕМЕНТНЫЙ АНАЛИЗ
General specifications
Material
Polypropylene – PP 1502
ISO/EN/DIN code
1183
Chemical composition
Chemical Formula
C3H6
Melting point
163°C
Max. application temp. constant
100° C
Max. application temp. briefly
140°
Physical and mechanical properties
Density
0.903 g/dm³
Hardness
Shore D70
Explanations on hardness data